Lance Uranium Mine Royalty, Crook County, Wyoming
Westwater Resources, through its wholly-owned subsidiary Neutron Energy, Incorporated, holds a royalty of one percent (1.00%) of revenue on certain lands associated with the Lance In-Situ Recovery Mine of Peninsula Energy Limited and its US-based subsidiary Strata Energy. The Lance project, which is located in northeast Wyoming, approximately 135 miles northeast of the city of Casper and 33 miles northeast of Gillette, is one of two uranium mines presently operating in the State of Wyoming.
Our Company's royalty interests at the Lance project are situated in portions of Townships 53 North and 54 North, Ranges 67 and 68 West, Crook County Wyoming (the "area of interest") and are centered upon properties in which US (federal) minerals that are subject to staking of mining claims. The royalty covers a combined area of nearly 17,010 acres within the area of interest, as depicted on the attached map. The one percent of revenue royalty is payable on all minerals produced by Peninsula/Strata from their mining claims within the area of interest, to a depth limit of 2,000 feet from the surface.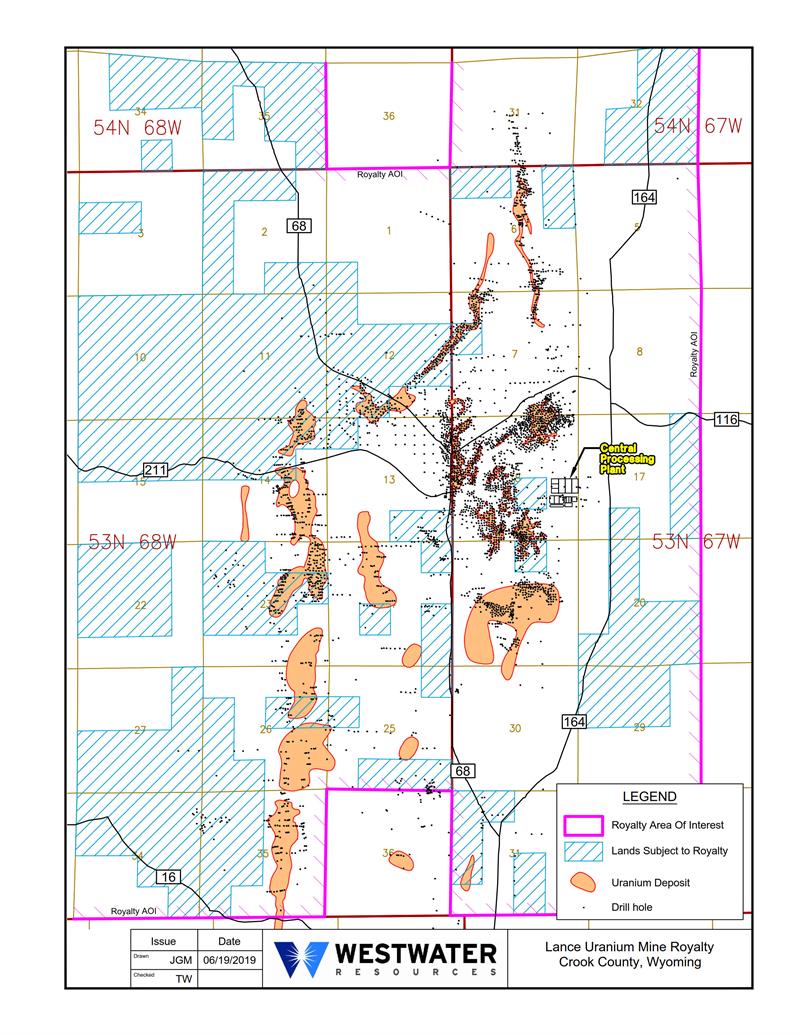 Contact
Westwater Resources, Inc. (WWR), is an explorer and developer of US-based mineral resources essential to clean energy production.
Sign up to receive emails of all the latest News Releases from Westwater Resources here.
6950 South Potomac Street
Suite 300
Centennial, CO 80112
Get in touch