Chilton County, Alabama
In September 2014, Alabama Graphite Corp. acquired the mineral rights to more than 1,300 acres in Chilton County, Alabama, which included the past-producing Bama Mine. Along with the Coosa Graphite Project, the Bama Mine Project is located in the historic, past-producing 'Alabama Graphite Belt' (source: U.S. Bureau of Mines). From the late 1800s through the 1950s, the Alabama Graphite Belt was home to significant graphite production. Large portions of the deposits found in this region are characterized by graphite-bearing material that is oxidized and has been weathered into extremely soft rock.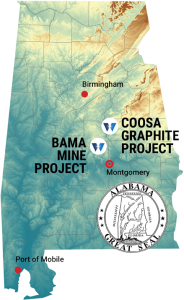 The Bama Mine was the southernmost mine in the Alabama Graphite Belt and produced more tonnage and higher quality flake graphite than any other graphite mine in Alabama. The Bama Mine ceased production in the 1930s when a fire destroyed the mill. According to historic accounts a large amount of tonnage remains in/around pit and on strike (Cameron and Weis, 1960). Alabama Graphite Corp. was also able to conduct heliborne TDEM and ground GEM-2 geophysical reconnaissance on the area prior to finalizing the lease agreement.
On APRIL 7, 2015, Alabama Graphite Corp. announced positive assay results from the 2015 trenching campaign at the Bama Mine Project. The results identified new targets in close proximity to the historic Bama Mine with a number of sections averaging over 3% Cg (graphitic carbon). The purpose of the trenching was both to further evaluate areas adjacent to the historic mine as well as to test new areas where airborne geophysical anomalies and/or surface channel sampling has identified prospective targets. Bulk samples were also collected for future metallurgical testing.
Similar to the Coosa Graphite Project property, the widespread occurrence of weathered graphitic schist can be found at the surface and excellent infrastructure (power, water, road, rail) is already established. The Bama Mine Project site is located less than 9 miles from I-65, and less than 1 mile from a major railroad.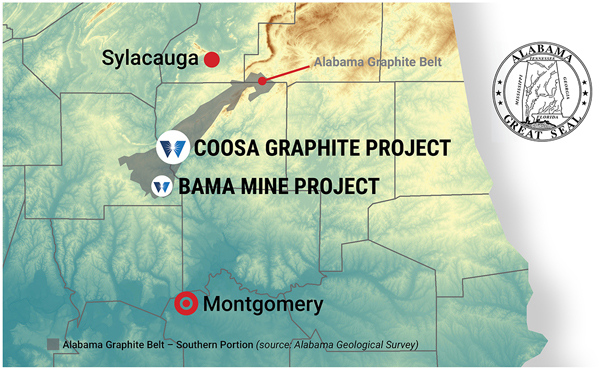 Contact
Westwater Resources, Inc. (WWR), is an explorer and developer of US-based mineral resources essential to clean energy production.
Sign up to receive emails of all the latest News Releases from Westwater Resources here.
Headquarters
6950 South Potomac Street, Suite 300
Centennial, CO 80112
Kellyton Graphite Processing Plant
349 McClellan Industrial Drive
Kellyton, AL 35089