COOSA Graphite-Vanadium Project
Vanadium and Westwater Resources
In early 2018 Westwater Resources' technical staff carried out a review of historical data and geologic information derived from previous graphite exploration drilling and surface trenching programs at the Coosa Graphite Project in Alabama to determine the potential for the presence of substantial vanadium mineralization at the project, and this work identified significant potential for the discovery of vanadium mineralization in the project area. In late 2018 Company personnel carried out an extensive geochemical sampling program, collecting nearly 2,000 samples from many previously completed drill holes and trenches, to determine the presence and intensity of vanadium mineralization at the Coosa Project. The laboratory analytical results of this sampling program outlined wide-spread and strong vanadium mineralization in very close association with strong flake graphite mineralization at numerous localities within the project area.
The vanadium mineralization at the Coosa project occurs principally as the mineral roscoelite, a medium to dark green mica mineral that has been a global source for vanadium for more than one-hundred years. In addition to the presence of wide-spread vanadium mineralization in drill hole and trench samples, impressive zones of vanadium mineralization have been outlined in surface exposures at several locations within the project area, especially at the Roscoe Ridge exploration target.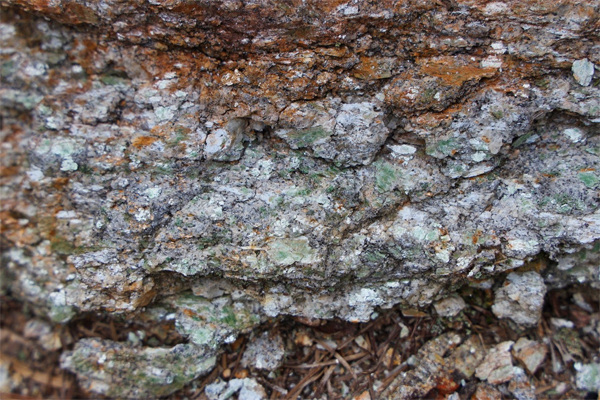 Strong roscoelite mineralization (green minerals) in close association with flake graphite mineralization (disseminated black minerals) at Roscoe Ridge.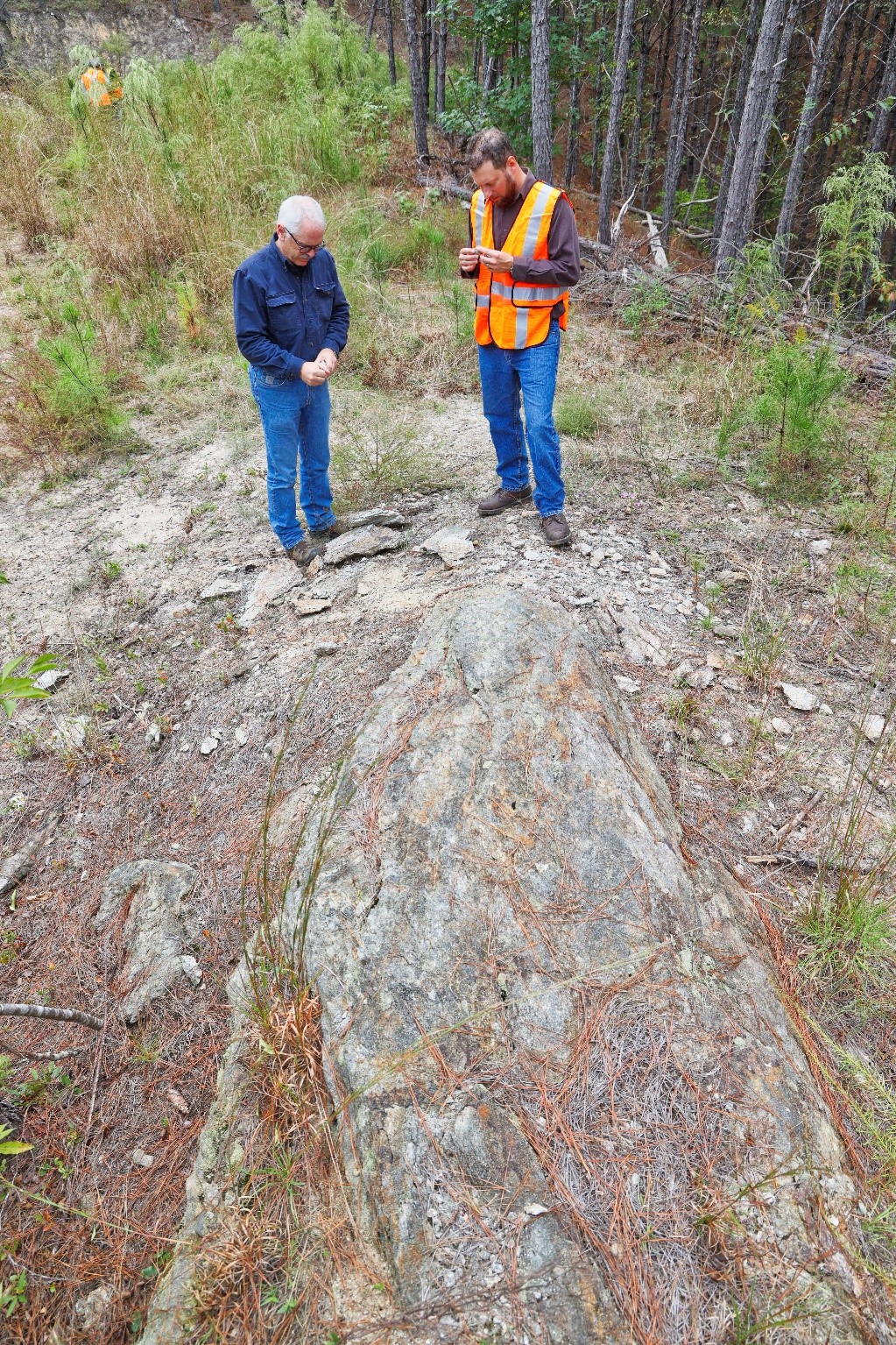 Exposure of strong vanadium mineralization at the Roscoe Ridge target at the Coosa Graphite Project.
The resultant technical analysis of the recently generated geochemical data highlights the high degree of prospectivity for the discovery of important levels of vanadium mineralization in association with equally important concentrations of flake graphite at the Coosa Project. A comprehensive exploration drilling program to further evaluate the vanadium resources, in addition to further evaluating the graphite resources of the Coosa Project is planned for late 2019 to follow-up on the results of geochemical sampling program, with the overall objectives of defining the magnitude and intensity of the vanadium mineralization and associated graphite mineralization. Details of this program are discussed in the attached report on vanadium mineralization at the Coosa Project.
BAMA Mine Project
Chilton County, Alabama
In September 2014, Alabama Graphite Corp. acquired the mineral rights to more than 1,300 acres in Chilton County, Alabama, which included the past-producing Bama Mine. Along with the Coosa Graphite Project, the Bama Mine Project is located in the historic, past-producing 'Alabama Graphite Belt' (source: U.S. Bureau of Mines). From the late 1800s through the 1950s, the Alabama Graphite Belt was home to significant graphite production. Large portions of the deposits found in this region are characterized by graphite-bearing material that is oxidized and has been weathered into extremely soft rock.
Contact
Westwater Resources, Inc. (WWR), is an explorer and developer of US-based mineral resources essential to clean energy production.
Sign up to receive emails of all the latest News Releases from Westwater Resources here.
Headquarters
6950 South Potomac Street, Suite 300
Centennial, CO 80112
Kellyton Graphite Processing Plant
349 McClellan Industrial Drive
Kellyton, AL 35089