COOSA COUNTY, ALABAMA
Comprised of 42,000 acres (more than 65 square miles), Westwater Resources' flagship Coosa Graphite Project is the most advanced graphite project in the contiguous United States of America.
Located in western Coosa County, east-central Alabama, USA, in the heart of the historic, past-producing 'Alabama Graphite Belt' (source: U.S. Bureau of Mines). From the late 1800s through the 1950s, the Alabama Graphite Belt was home to significant graphite production. Large portions of the deposits found in this region are characterized by graphite-bearing material that is oxidized and has been weathered into extremely soft rock. Westwater Resources acquired the mineral rights to the Coosa Graphite Project in April 2018.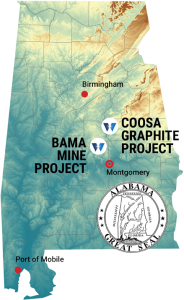 Following the announcement of positive preliminary metallurgical results, Alabama Graphite Corp. commenced an exploration program in April 2015 aimed at expanding the current resource estimate through step-out drilling to the northeast, southeast and southwest. The 2015 program consisted of infill drilling between the area of the previous indicated resource and inferred resources along the Northern Strat section.
On JUNE 24, 2015, Alabama Graphite Corp. announced positive initial assay results. Not only did the results extend the limits of the graphitic mineralization to the northwest, but they were also of a higher graphitic content than what the Company expected to see from this area. The promising initial results led to Alabama Graphite Corp's JULY 23, 2015 announcement of the expansion the 2015 drill program in an effort to target additional areas showing increased quantities of large flake graphite. The focus was on the Rosco Ridge zone located approximately 600 feet southeast and parallel to the established resource grid, and the Holy Schist trench. Metallurgical work from trenching in both these areas has yielded 28.2% and 30.5% large flake (+80 mesh), respectively. The 2015 drill program further substantiated the positive continuity of near-surface, oxidized, higher-grade graphitic material, increasing the amount of oxide material in the Coosa Graphite Project's resource estimate and upgrading a significant amount of the previous inferred resource to the indicated resource category.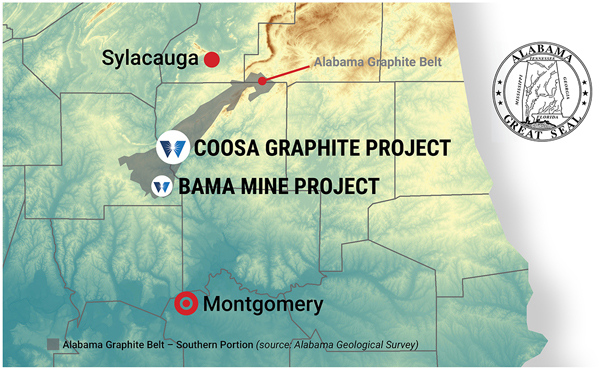 COOSA GRAPHITE PROJECT PRELIMINARY ECONOMIC ASSESSMENT (PEA)
The National Instrument 43-101 (NI 43-101) Preliminary Economic Assessment (PEA) technical report for the Coosa Graphite Project was completed by AGP Mining Consultants Inc. in November 2015.
The Coosa Graphite Project PEA based on Westwater Resources' business strategy not to sell conventional, primary processed run-of-mine graphite, but to further process the run-of-mine graphite particular, ultra-high-purity Coated Spherical Purified Graphite (CSPG) for use in Li-ion batteries and Purified Micronized Graphite (PMG) for use as a conductivity enhancement product in Li-ion, lithium primary, alkaline and lead-acid battery applications.
COOSA GRAPHITE: BATTERY-GRADE PURITY ACHIEVED
In September 2015, purity of more than 99.9% Cg — across all flake sizes of Coosa graphite concentrate — were achieved using a conventional low-temperature thermal purification process. The purification trials were conducted on Coosa graphite concentrates produced by SGS Mineral Services. The trials were based on a total product mix and were carried out across the total flake-size distribution (including, large-, medium- and fine-flake size fractions), in order to achieve a full-spectrum sampling of the Coosa Graphite Project's graphitic material and its demonstrated purity.
BATTERY-GRADE — 'MADE-IN-USA' GRAPHITE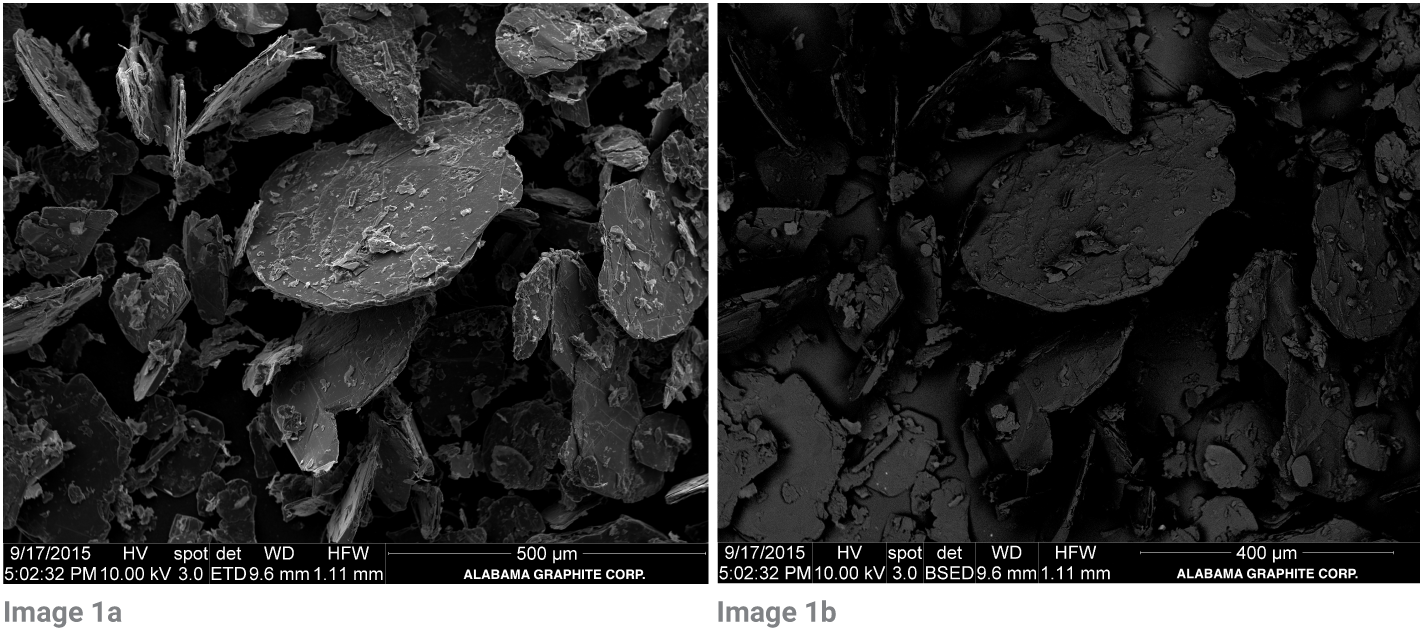 FIGURE 1: IMAGE 1A: A SECONDARY ELECTRON SEM MICROGRAPH OF PURIFIED GRAPHITE FLAKE CONCENTRATE. IMAGE 1B: IMAGE 1B WAS TAKEN AT THE EXACT SAME TIME AS IMAGE 1A, BUT USING THE BACKSCATTERED ELECTRON DETECTOR. BACKSCATTERED ELECTRON IMAGING IS USED TO DIFFERENTIATE BETWEEN MATERIALS OF DIFFERENT COMPOSITIONS – PHASES HEAVIER THAN CARBON WILL LOOK BRIGHT, AND PURE CARBON WILL LOOK GREY, AS SEEN HERE.
Contact
Westwater Resources, Inc. (WWR), is an explorer and developer of US-based mineral resources essential to clean energy production.
Sign up to receive emails of all the latest News Releases from Westwater Resources here.
Headquarters
6950 South Potomac Street, Suite 300
Centennial, CO 80112
Kellyton Graphite Processing Plant
349 McClellan Industrial Drive
Kellyton, AL 35089